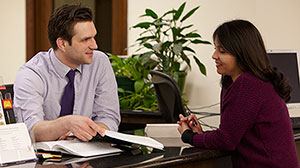 The self-help collection is designed for people doing their own legal research without the assistance of an attorney. It is an excellent starting point for people involved in lawsuits who don't have attorneys (also called self-represented litigants) as well as people who are facing common legal problems and seeking answers to everyday legal questions.
Many of the books in the self-help collection are published by Nolo Press, a publisher of books for non-attorneys. The majority of the Library's Nolo books are also available electronically at the LA Law Library through the Legal Information Reference Center database. The self-help collection is an excellent starting point for landlords and tenants, homeowners, small business owners, employees, pet owners, and those doing their own divorce, among others. The self-help collection also has books for those who are suing or being sued in small claims, California state courts or the federal courts. The self-help collection also includes a wide variety of pamphlets, referral sheets and publications provided by the California and Federal Courts, legal aid providers and social services agencies.
LA Law Library provides access to legal resources and information and assistance with legal research. LA Law Library does not provide legal advice. For legal advice, you must consult an attorney. The "Get Legal Help" section suggests some ways to start looking for an attorney if you need one and also has information about finding free or low-cost legal aid services for those who qualify. Every superior court in California also makes legal help available in family law and in small claims cases. Some superior courts can also help you with other legal issues. For more information on court-based services in Los Angeles County, including hours and locations, click here.