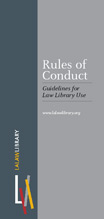 As a public library, the LA Law Library is available to anyone.
Rules of Conduct, adopted by the Board of Trustees, govern the use of the main library and all branch locations.
The Library has established Borrowing Rules that identify the various borrower classes, loan periods and renewal and hold options. The rules also include required annual borrowing fees, a one-time security deposit, and information on overdue fines and lost book charges.
RESPECT THE RIGHTS OF OTHERS
Users shall respect the rights of other library users and library staff.  The Library shall not be used in lieu of an office for the practice of law or any other professional or business activity.  Soliciting, harassing, offending, intimidating or disturbing library patrons or staff is strictly prohibited.
[California Penal Code 602.1 (b)] 
THEFT, ABUSE AND VANDALISM
The theft, abuse, vandalism, mutilation, marring, marking, defacing, or otherwise damaging of the books, building, equipment, furniture, or other objects in the Law Library is prohibited.
[California Penal Code 490.5 & 594; Education Code 19910 & 19911]
SAFETY AND SECURITY
Users should limit their carry-in items to those materials necessary to accomplish their legal research.  For safety and security, the library reserves the right to limit users to one bag and one purse or a briefcase.
Briefcases, backpacks, packages, and outer garments may be subject to inspection at any time.
With the exception of wheelchairs, large objects such as carts, luggage, bicycles or parcels that collectively exceed 26" x 19" x 9" are not permitted in the library.
Walkways and aisles shall be kept clear and unobstructed by personal items.
The Law Library is not responsible for, nor shall it have any liability for, the personal items that users bring into the library.
Security personnel will remove unattended items.
PERSONAL CONDUCT IN THE LAW LIBRARY
In consideration of others, quiet is expected throughout the Library.  Users may engage in quiet conversation as long as other users are not disturbed.  Pagers, cell phones and PDAs should be turned to vibrate.  Photocopiers / scanners or other equipment should be used as quietly as possible.
Appropriate attire, including shirts and shoes must be worn in the library.
Animals, other than service animals assisting persons with disabilities, are not permitted in the library.
Children must be under the control and supervision of a responsible adult at all times.
Beverages in covered, spill-proof containers are allowed. The eating of food and the chewing of gum are prohibited.
The following are not permitted in the LA Law Library:
Smoking, including smoking within 20' of any entrance to the Law Library
[California Government Code 7597]
Weapons
Loitering, sleeping, lying on the Law Library floor or furniture.
Bathing, shaving, and washing clothes in the library restrooms are not permitted.
Persons under the influence of alcohol or drugs are not permitted in the library.
Persons whose parcels or bodily hygiene or odor is so offensive as to constitute a nuisance or disrupt others' work shall be required to leave the library.
USE OF LIBRARY MATERIALS
Users shall not conceal or hide library materials for their exclusive use.  Pocket parts or loose-leaf pages may not be removed from books except for photocopy purposes.  When copying is complete, the pages used shall be returned promptly to their correct location in the book.
No materials shall be removed from the library unless they have been properly checked out.  Failure to return materials when due may result in payment of fines, replacement costs and administrative costs and / or loss of Law Library privileges.
Users should not reshelve their used materials.  Materials left unattended for long periods of time, will be reshelved by Law Library staff.  Users wishing to keep pulled materials for later use, should place a reserve sign on the items, including a date and time when the user will return to the item(s).
USE OF LIBRARY AND PERSONAL COMPUTERS
Law Library computers are reserved for legal research and access to the online catalog.  Email use is not permitted, except to e-mail work product to a user's home, office, or client.
Computer use is limited to a one-hour session.  If no users are waiting, a second one-hour session may be requested. Users may only access computers assigned in their name.
Accessing the library computer system, programs or data without authorization is prohibited.  Peripheral devices (printers, CD-ROM drives, jump drives, cameras, keyboards, scanners, etc.) may not be attached without prior authorization.
Users may use laptop or notebook computers in the library, provided their use does not disturb other users. Personal electronic devices including but not limited to copiers, scanners, cameras, audio and/or video recorders and VOIP telephones may not be used without prior authorization.
Users may not use electrical outlets designated for Library equipment.  Electrical outlets may be used for laptop and cell phones as long as no hazard or obstacle is posed by their use.
UNAUTHORIZED AREAS
Opening emergency exits (except in emergency situations), entering unauthorized or off-limit areas of the library, remaining in the library after closing or during emergency drills or evacuations is prohibited and may result in immediate suspension of library privileges.
FAILURE TO COMPLY
Failure to comply with library rules, the directives of library staff, or to cooperate with the staff in their enforcement of these rules may result in the loss or suspension of library privileges, including but not limited to temporary or permanent removal from the library premises.
Updated July 2015
Last modified on Tuesday, 04 August 2015 15:36